About Us
---
C
oconut Grove is set an idyllic location right on the beach at Dickenson Bay, Antigua, nestling amongst palm trees and lush tropical vegetation and facing a sweep of white sand and turquoise ocean.
The bar and restaurant is equally popular with the island's many visitors and local Antiguans alike. The atmosphere is the perfect combination of tranquility and vibrancy, fun and romance.
With a spectacular view of the Caribbean sunset every night, Coconut Grove is the ideal place for a sundowner at the bar followed by a delicious dinner.
During the day, we welcome you for our famous Full Monty breakfasts from 7am. You can then take a swim and a sunbathe on one of our beach loungers before enjoying a superb lunch of freshly caught fish.
Daytime at Coconut Grove is very casual – you can wear your bikini in the bar. At night we transform into a magical, candle-lit restaurant offering the most romantic setting for dinner on the island.
Our menu has something to suit every taste, from our famous lobster thermidor to watermelon and feta salad, from sirloin steak to a burger and fries. Many of our dishes, such as Antigua salt fish and Jamaican jerk pork, celebrate our Caribbean location. We pride ourselves in sourcing the highest quality, freshest ingredients on the island. We also have an extensive wine list that complements our menu.
Most of our 'regulars' have been coming to the bar and restaurant for many years, whether they live around the corner or on the other side of the world. But everyone is given the same friendly welcome by our staff, who pride themselves in attention to detail and creating the special atmosphere that is uniquely Coconut Grove.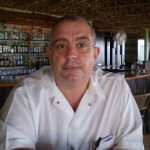 Jean-Francois Bellenger, our talented French chef, has also been with Coconut Grove since 2001. He learnt his skills at an early age from his father who was a restaurateur inFrance. Proud to be 'fussy', Jean-Francois rejects all but the finest quality ingredients to create a truly memorable selection of dishes. Jean-Francois boasts that he makes one of the best lobster thermidors in theCaribbean– why not come and see if he's right.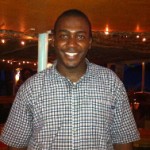 Jermain, our ever-smiling bar-tender, brings a wealth of experience to Coconut Grove. Unflappable on even the busiest nights, he keeps the bar running smoothly and greets both first and old time visitors with equal charm and warmth. He will remember your name and your favourite drink, mixed just the way you like it.